Results For "Holiday"
10 News Found
Havas Media Group in tie-up with Kerala-based IMC Advertising
In OOH News By M4G Bureau - July 13, 2017
As part of the deal, Havas Media Group will be handling the integrated media mandate including OOH of Malabar Gold & Diamonds, and further consolidating its presence in the south which currently comprises brands like Quikr, BlueStone, Swiggy, Strides Shasun, HolidayIQ, Moneyview, Darshan International and Embassy Group
Samsung Gear S2 launches holiday campaign across the world
In Digital OOH By VJ Media Bureau - December 24, 2015
Samsung's Gear S2 creates magic on the wall of the Natural History Museum in Paris, covers the Central Building wall in the heart of Hong Kong, grabs attention at the Via Montenapoleone in Milan, adorns the walls of the BFI IMAX cinema & Marble Arch in London and also at Central House of Artist in Moscow.
Havas Media wins integrated media mandate for Clovia and Holiday IQ
In OOH News By Satarupa Chakraborty - November 13, 2015
Amidst the multi-agency pitch, Havas Media Group India has been awarded the integrated media mandate of lingerie and nightwear brand, Clovia, and Holiday IQ, India's largest travel community and holiday recommendation engine. Clovia account will be handled by Havas's New Delhi office and Holiday IQ from the agency's Bangalore office.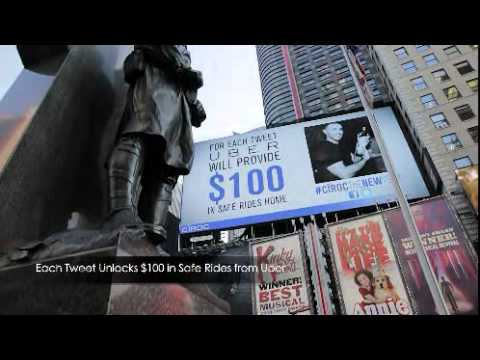 Ciroc's Spirited Holiday Message
In Gallery By - April 25, 2014
Earlier this year , CIROC Vodka, a Sean Diddy Combs brand, approached Monster Media through The Blue Flame Agency to develop a socially integrated OOH campaign to promote responsible behavior during the holidays. Monster Media created a social application that was displayed on a huge Times Square digital billboard at 1568 Broadway on 47th Street. The campaign encouraged viewers to pledge via Twitter using #CirocTheNewYear. Each pledge received then unlocked $100 in safe rides from Uber, with a maximum total of $1,000,000 in free rides. The pledges were filtered to ensure the users were of the right age to participate. Selected messages were then displayed on the digital billboard and all users with an approved message received a photo of their message on the billboard via Twitter.