Results For "Indian-OOH"
89 News Found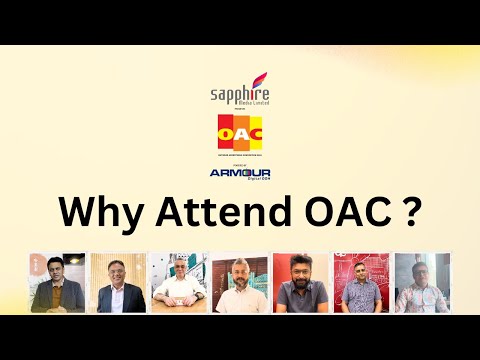 Here's why you should attend the Outdoor Advertising Convention
The annual Outdoor Advertising Convention (OAC) 2023 is the quintessential knowledge and networking platform for Indian OOH industry. India's top specialist agency heads share their perspectives on what OAC means to the industry, and hence WHY attend this convention?
Media Owner or Agency?
In Viewpoints By Vasant Jante - May 19, 2023
The constant blurring of lines between media owning business and specialist agency functions is seemingly redefining the roles of the key constituents of OOH business. Vasant Jante, Founder & MD, VJ Media Works shares his perspective on this changing business landscape.
'OOH is no rocket science'
In Viewpoints By Rajiv Raghunath - December 21, 2022
Indian OOH industry veteran Nabendu Bhattacharyya, widely known for his pioneering leadership and entrepreneurship, shares his outlook on talent acquisition & development in an interview with Rajiv Raghunath.
Bridging the skills gap in Indian OOH as a part of outdoor media news & advertising
In OOH News By N Jayalakshmi - September 05, 2022
As OOH gets ready to embrace new dynamics, enabled by digital technologies and emerging advertiser needs, is the industry empowered with the right skills to match the evolving market demands? What are the key skills that can take the medium to new heights? How can these skills be groomed? How can it effectively become integral part of Outdoor media news and advertising? Can media exist without Advertising?