Results For "Pramod-Bhandula"
19 News Found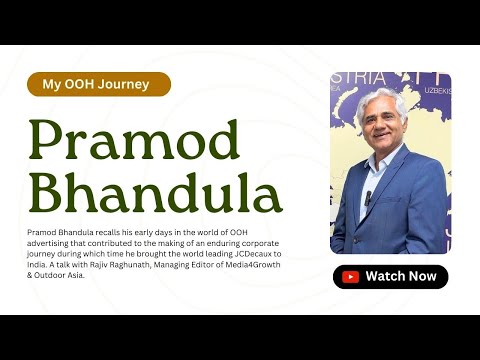 'I lived my dream working in the OOH industry'
Pramod Bhandula, Executive Chairman of JCDecaux India recollects his early days in the Indian OOH industry, the great learnings from industry veterans, and the grand debut of JCDecaux in India, in conversation with Rajiv Raghunath.
Bridging the skills gap in Indian OOH as a part of outdoor media news & advertising
In OOH News By N Jayalakshmi - September 05, 2022
As OOH gets ready to embrace new dynamics, enabled by digital technologies and emerging advertiser needs, is the industry empowered with the right skills to match the evolving market demands? What are the key skills that can take the medium to new heights? How can these skills be groomed? How can it effectively become integral part of Outdoor media news and advertising? Can media exist without Advertising?
"OOH Expo will help media owners & suppliers find new partners"
In OOH Solutions By N Jayalakshmi - December 10, 2021
Pramod Bhandula, Chairman, JCDecaux India & Vice Chairman, IOAA, feels the OOH Expo, to be held at Nehru Centre, Mumbai, on March 14-15, 2022, is an ideal platform for the industry to come together and discover new trends and technologies in the space.
'Measurement & rate card are two engines for industry growth'
In Viewpoints By N Jayalakshmi - August 23, 2021
Well-regulated pricing with a rate card system is one of the factors can drive advertiser trust in a medium. But in the OOH space, rate card is still a challenge. Pramod Bhandula, Chairman, JCDecaux India & Vice Chairman, IOAA shares his views on why a rate card system is important for the OOH industry and how it can be made a reality.