Results For "Prakash-Arts"
38 News Found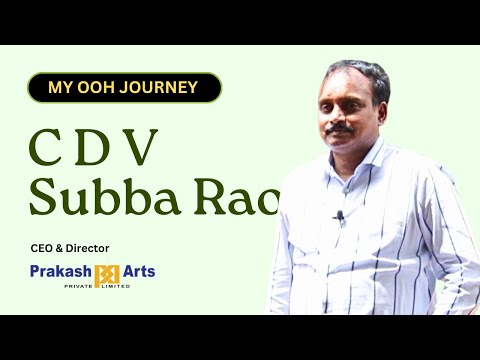 A habit of success at Prakash Arts
In Gallery By - September 13, 2023
C D V Subba Rao, CEO and Director of Prakash Arts, one of India's leading Out-of-Home (OOH) media-owning firms, shares insights into the company's remarkable 6-decade journey and his experiences since taking the helm in an exclusive interview with Rajiv Raghunath
The next station is… Growth
In OOH News By Aayush Mohanan - June 12, 2023
As metro ridership grows in India, so do the advertising opportunities. Media4Growth takes a deep dive into the windows of opportunities for businesses as we speak to various media owners across the country
'Welcome move, but alternatives will cost three times more'
In OOH News By Prantika Ghosh - September 27, 2022
Media4Growth reached out to leading OOH company Prakash Arts to get their take on the ban on flex by the AP government. H V Surendranath, COO of Prakash Arts, feels that while any environmentally friendly decision is welcome, there are also many cost challenges, in terms of using greener alternatives.
Bridging the skills gap in Indian OOH as a part of outdoor media news & advertising
In OOH News By N Jayalakshmi - September 05, 2022
As OOH gets ready to embrace new dynamics, enabled by digital technologies and emerging advertiser needs, is the industry empowered with the right skills to match the evolving market demands? What are the key skills that can take the medium to new heights? How can these skills be groomed? How can it effectively become integral part of Outdoor media news and advertising? Can media exist without Advertising?