Results For "Mumbai"
777 News Found
Form a Joint Industry Committee to develop OOH metrics: Tony Jarvis
In Viewpoints By M4G Bureau - May 26, 2014
Most mature OOH markets around the world have adopted their own audience measurement and rating currency with great success. Time is rife for the Indian OOH industry to take similar recourse. Global advertising and research architect Tony Jarvis, Proprietor & Research Architect at Olympic Media Consultancy, asserts that the Indian OOH industry should lose no time in developing and launching an OOH audience measurement and rating currency, while being aware that the metrics will evolve as per industry requirements. Jarvis advocates a step-by-step approach toward building, enhancing and including the currency. In an exclusive interview with Rajiv Raghunath of Outdoor Asia, he says the measurement system will become more refined and multi-layered as it gains wider acceptance. Jarvis cites the adoption of a comprehensive OOH currency system in Australia to underline that once the teething troubles are sorted, the system will catalyse significant industry growth. The following are edited excerpts of the interview: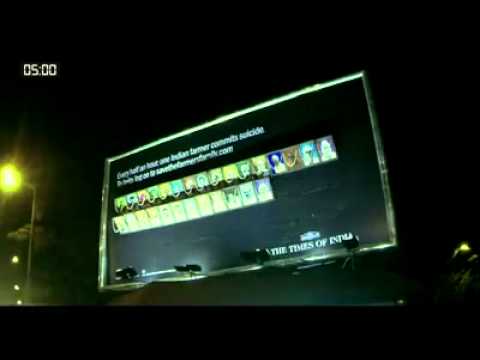 TOI drives home farmer suicide issue
In Gallery By - April 26, 2014
OOH agency Milestone Brandcom executed the live hoarding at MahimCausway in Mumbai as The Times Of India, took up the challenge to inform this rural problem to urban people through an innovative campaign. Photographs of 48 recently deceased farmers were printed, framed & kept ready for the activity with garland. Every half - n-hour, from morning to night photographs of the farmers were put up in the same frequency in which the farmers killed themselves. A call to action on the hoardings urged people to visit the website savethefarmersfamily.com and make donations that would help stop more untimely deaths.