Gallery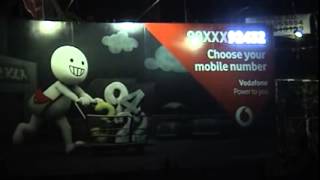 June 03, 2014
Vodafone innovates with'Choose Your Number'
Vodafone, the telecom services major recently launched an OOH innovation for its"œChoose Your Number" scheme which was tied to the brand's IPL 7 campaign in the Kolkata market. The OOH specialist agency, Kinetic partnered with the brand in executing the innovation which aims to inform the OOH audience that they can choose their favourite / auspicious number while taking a new connection from Vodafone. To create a high brand recall for the communication, the innovation was deployed at E.M. Bypass, a key traffic crossing in the city.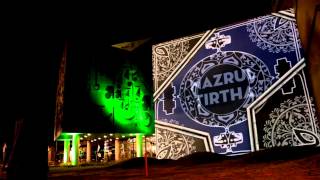 May 31, 2014
SelvelNext illuminates Nazrul Tirtha with laser display show & ambient lighting
SelvelNext lit up one of the building facades of Nazrul Tirtha complex, the newly inaugurated museum in Rajarhat New Town, dedicated to the rich legacy of the rebel poet Kazi Nazrul Islam, using a mix of projection mapping, laser display and ambient lighting. Visitors and commuters were treated to a dazzling display showcasing the poet's rare images, book covers, music and art through innovative graphics using high-definition technology.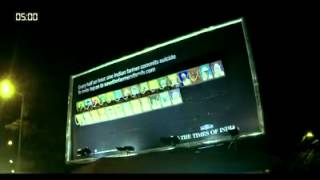 April 26, 2014
TOI drives home farmer suicide issue
OOH agency Milestone Brandcom executed the live hoarding at MahimCausway in Mumbai as The Times Of India, took up the challenge to inform this rural problem to urban people through an innovative campaign. Photographs of 48 recently deceased farmers were printed, framed & kept ready for the activity with garland. Every half - n-hour, from morning to night photographs of the farmers were put up in the same frequency in which the farmers killed themselves. A call to action on the hoardings urged people to visit the website savethefarmersfamily.com and make donations that would help stop more untimely deaths.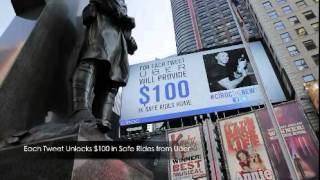 April 25, 2014
Ciroc's Spirited Holiday Message
Earlier this year , CIROC Vodka, a Sean Diddy Combs brand, approached Monster Media through The Blue Flame Agency to develop a socially integrated OOH campaign to promote responsible behavior during the holidays. Monster Media created a social application that was displayed on a huge Times Square digital billboard at 1568 Broadway on 47th Street. The campaign encouraged viewers to pledge via Twitter using #CirocTheNewYear. Each pledge received then unlocked $100 in safe rides from Uber, with a maximum total of $1,000,000 in free rides. The pledges were filtered to ensure the users were of the right age to participate. Selected messages were then displayed on the digital billboard and all users with an approved message received a photo of their message on the billboard via Twitter.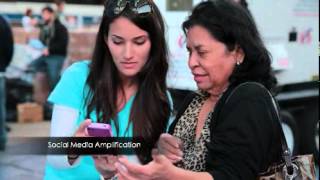 April 24, 2014
Reaching out in a snap!
Here's an example of a brand creating live buzz before hitting the store shelves. Quigley Simpson and Monster Media teamed up for the launch two new forms of Secret Clinical Strength: Invisible Solid and Clear Gel. Again Times Square in New York was considered the perfect for the launch activation that included a Portable Storefront: POD, brand ambassadors and a fully interactive experience. Brand ambassadors were on hand to give women free samples of these two new forms, which had not even hit store shelves yet! The women were then encouraged to snap a photo of their 100% Times Square moment at a photo station on the POD and share it on social media. On the opposite side was a 3x3 linked LCD wall where the women could view their photos as well as watch a Secret branded video. Additionally, the wall dynamically pulled social media feeds for passers to view the user feedback.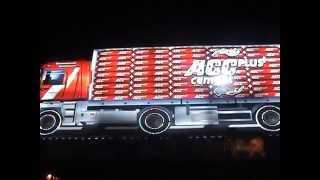 April 14, 2014
ACC Cement rides high on BQS innovation
ACC Cement and Landmark Outdoor Media Services built a path-breaking innovation on a BQS to promote the brand in Patna. The highlight was that the truck seemed to be riding with the effect of LEDs.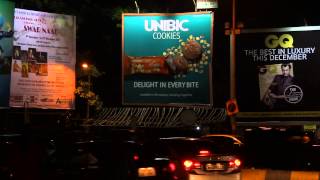 December 13, 2013
How the cookie pops out!
Unibic Cookies with Media Circle came out with an exciting OOH campaign in Mumbai showcasing the products in an attractive manner. The highlight was the innovation at Juhu with cookies coming out of the packet on the hoarding!
December 10, 2013
Aircel - Perfect Goal
OOH agency DDB MudraMax designed a flash mob activity for their client Aircel showcasing a group of boys playing live football in Express Avenue Mall, Chennai to promote the limitless pocket gaming card.